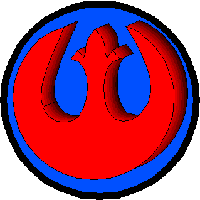 The Allied Armed Forces of the New Republic
Join the Alliance!
Fellow beings -

Many great victories have been won in the cause of freedom, but the battle is by no means at an end. There are still those in the galaxy to seek to oppress and rule all.

The Alliance is still striving, more determined than ever, to bring freedom and self determination to all beings.

We have won many victories over the past years because a few, proud, freedom loving individuals stepped up and counted themselves among those willing to risk all for freedom.

You may be one of those. If you are, join the Alliance!!

Now more than ever we need those few individuals special enough to fight for the Freedom of the Galaxy.

The end is in sight. You can make the difference!

Join the Alliance!!


Chief of Combined Operations
Allied Armed Forces of the New Republic

---
Hi,

The Alliance Division strives to encourage new and interesting Role-Plays, both within the Division and with the other divisions. We work through the Newsletter, the mail, and e-mail, and we want you!

When you join, you can join one of the subdivisions: Fleet, Ground Forces, Intelligence, Security, Support, Medical, and everyone's fav, Special Operations (Ground or Fleet). Or if you follow the path of the Jedi, we can find you a Master, to guide you.

There something here for everyone.

And don't worry if you're not a veteran role-player, we will be more than happy to help you find what interests you, help you with your character, and help getting you into fun and exciting role- plays.

All you have to do is send a character bio, or just an idea if that's all you have, and what you would like to do in the Alliance, and you are on your way.

I look forward to hearing from you very soon!

Dora Furlong
Alliance Division Leader
---
On to Mercenaries.