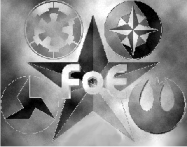 Forces of the Empire
Blaster Battle Y2K + 4
Here are the files for this year's Blaster Battle.

There are no new rules about character creation, however, please read them closely before sending in your characters

The rules are revised for age limit, although I have yet to update the documents here.
This year we will require a sponsor for anyone between the ages of 14 and 16 to play in the skirmish.
The sponsor must have a minimum of two years attending media and playing in the blaster battle.
The sponsors will then speak with the judges and a determination will be made, based upon the skirmish, as to whether or not they can play in the Blaster Battle.

Characters and fees can be sent to me:
Patrick Furlong
121 E. Remington Terr.
Raymore, MO 64083

or you can send you characters as text, via email to me and pay me at the con before you get your badges. Send email to pfurlong@deathstar.org.

We hope to have an on-line registration form up soon.

Make checks payable to "Alternate Universes Interactive Literature Ass'n, Inc." or "AUILA, Inc."
---
Blaster Battle Rules for Y2K +2

In MS Word or Adobe Acrobat Format.

Blaster Battle Y2K+2 Character Sheet

In MS Word or Adobe Acrobat Format.

Blaster Battle Skill Annexes
You will need the Free Adobe Acrobat Reader to view .pdf files.
---
The rules for the Force Users Battle are slightly different this year.
Visit the Force Users Battle page for further information.
Go To:
Port Lansing Schedule
Members Main page
---
Questions? pfurlong@deathstar.org
Last modified: Sun Mar 18 18:49:41 EST 2001