Forces Of the Empire Timeline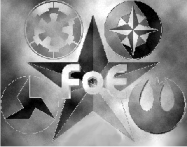 About the Timeline
The club timeline is a compilation of role-play that occurs throughout the year.
Events in the Timeline are not always public knowledge and should NOT be used as In-character knowledge without first gaining the approval of the persons involved.
It is the policy of the Timeline Compiler to revise inaccurate information when it is discovered and to Include the changes in future printed Timelines. Anyone spotting an error is asked to please report the change to April alliana701@yahoo.com or Dora sparrowh@deathstar.org
If you are looking for the timeline of Star Wars Books and films the Timeline Gold Site contains comprehensive materials in PDF format.
---
The Timelines By Year
---
This page maintained by: April and Dora

Last modified:
Fri Sep 5 2003